Thomas Atanazio used a photo I took of the men's room at the old Galaxy on Washington Avenue
to compose the background of a scene in his creative, visually compelling short film "Live Love Work Play."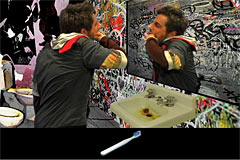 I think this is the first time I've been listed in the credits of a film. IMDb, here I come!
---
Posted under Fun Links by Brian Marston on Fri., Feb 9, 2007 at 12:41 PM