So, we were driving south on Grand through Grand Center today, when a truly stunning and hilarious typographical error caught my eye. Amanda had to turn the car around so I could get out and take a photo.
There's a mural on the Woolworth building painted by Loyola Academy students that features head shots of famous black artists from St. Louis. Each image is labeled with that person's line of work (e.g. Miles Davis is labeled "Musician"). The somewhat questionable likeness of Nelly is labeled ... wait for it, wait for it ... "Raper." Yo Nelly, you might want to contact your publicist, derrty.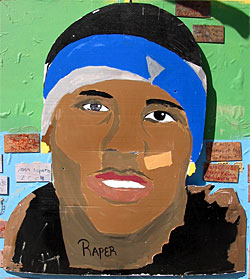 In other Grand Center news, the space formerly known as The Commonspace is still empty five months after we moved out.
---
Posted under Other by Brian Marston on Sun., Mar 6, 2005 at 11:03 PM