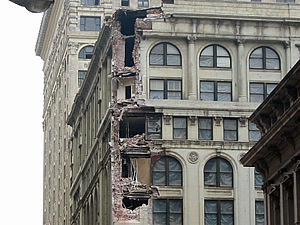 The Century Building is in the process of being demolished. The wrecking ball began swinging downtown at 9th and Olive at about 4 p.m. on Wednesday. Simultaneously, there was a hearing for a temporary restraining order to halt the demolition. That restraining order was denied by Judge Fleissig on Thursday.
Some words that come to mind to describe this turn of events: sad, disheartening, frustrating, maddening, stupid, unnecessary, unjustifiable, cronyism, corrupt, travesty, wrong. One word that does not come to mind: progress.
This photo is from KWMU. See the story on their site by Tom Weber for more photos.
---
Posted under Other by Brian Marston on Fri., Oct 22, 2004 at 1:31 PM