Our historic buildings are the city's most important competitive asset and key to economic revitalization.


The Century Building in downtown St. Louis and the Virginia Mansion in Dutchtown South are both slated for demolition, but they will not go down without a fight.
Both buildings are architecturally and historically significant to the city of St. Louis. The Century Building is coming down for a parking lot and the Virginia Mansion for a new residential facility.
The St. Louis Rehabbers Club will host a Preservation March and Rally on Monday, June 27 at 3 p.m. to protest the planned demolition.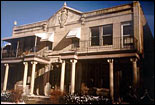 Protesters will meet at 8th and Locust downtown across from the beautiful, but very soon to be demolished, Century Building. We will rally before marching to 1015 Locust, where the city of St. Louis will hold a hearing for the demolition of the Virginia Mansion.
D-Day for the Century Building is slated for June 30. We are hoping that a last-minute well-signed petition could make a difference with one of the key supporters for demolishing the Century, the National Trust for Historic Preservation. (It's hard to believe, but the National Trust for Historic Preservation is chipping in $4.3 million to demolish a building that's on the National Register of Historic Places.) Please read the petition and sign it. Please also foward it to your friends, and consider emailing a note to Richard Moe (President, Richard_Moe@nthp.org) and Peter Brink (Senior VP-Programs, Peter_Brink@nthp.org) at the National Trust.
Preservation Board hearing may decide fate of Virginia Mansion (Post-Dispatch, Patricia Rice)
Saving Old St. Louis (Post-Dispatch, Deb Peterson)
Updates:
In a 3-2 decision, the Preservation Board voted to deny the application for demolition of the Virginia Mansion.
National Trust backs plan to raze building (Post-Dispatch, Robert Duffy)
Protest Over Planned Century Bldg. Demolition (KWMU, Tom Weber)
Wes Ballew dug up a hypocritical ad that the National Trust for Historic Preservation ran in Parade magazine about a year ago. The tag line is "No one looks back fondly on the time they spent in a parking garage." True dat.
The petition to save the Century Building has been signed by 1,626 people so far, making it the fourth most active petition at PetitionOnline.com. (I'm petition signer #1, and Amanda is #100.)
Couple wants to hug 2 threatened buildings (Post-Dispatch, Charlene Prost) - Yay for Amy and Amrit Gill!
Vote in the STLtoday.com poll: Should the Century Building downtown be razed to make space for a parking garage?
Updates (7/4/04):
Battle of the Century (Post-Dispatch, Robert Duffy)
Raze a building and get tax credits (Post-Dispatch, Charlene Prost)
Update (7/6/04):
---
Posted under Other by Brian Marston on Mon., Jun 28, 2004 at 3:26 PM