Shouts out to my fellow Commonspace - Bike Fed teammates who rode the MS 150 in Columbia: Jeanne Fitzler, Bob Foster, Katy Gordon, Martin Jansky, Dave Luecking, Jason McClelland, Matt O'Leary, Wes Ridgeway, Kent Shaw, Sara Shipley, Amy Stringer, John Sweet, Darryl Swint, Joe Tank, Russ Willis, Tim Woodcock and Ralph Zuke.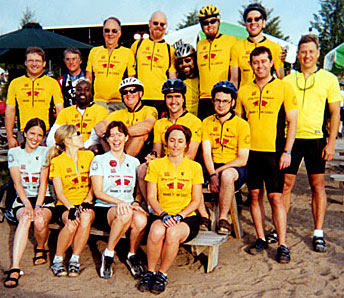 Special thanks to Jason McClelland for serving as team captain and den mother, Swint Design for designing our team jerseys, Big Shark for subsidizing the jerseys, Steve Patterson for sponsoring the pre-party at The Commonspace, Vito's for giving us a discount on the pizzas, Dave Luecking for picking up the bill at Shakespeare's (and making us look really cool to the cashier who was a Blues fan; that's right, buddy: Dave Luecking is buying our pizza!), and everyone who sponsored me and all the other riders.
Congrats to the few, the proud, the double-century riders: Jason McClelland, Kent Shaw, Bob Foster and me.
Who's in for next year?
---
Posted under The Commonspace by Brian Marston on Mon., Sep 20, 2004 at 5:23 PM