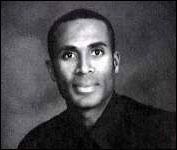 Marjobo Harrell died in a motorcycle accident Saturday night. He lived a few doors up from Amanda and me in Tower Grove Heights. A little after 10:00 that night, we stopped and talked to him for a while on our way home from walking our dogs. Bo was seated on his motorcycle in front of his house, on his way to 609 in the Loop.
Around 11:00, he sideswiped a car on northbound Skinker near Lindell and slid under a moving Metro bus that was also traveling north. He was 34 years old. Funeral arrangements are still pending.
Bo was a great guy. When he asked how you were doing, you got the sense that he really cared. He was a firefighter assigned to Engine Co. 32 on Grand at Potomac. In the notes section of the block buzz book I put together, he listed the following: "Hobbies: motorcycling, traveling; Talents: singing, fashion merchandising; Interest: having a close knit neighborhood; Super powers: top secret." His brother ended up at our house late one night a couple of years ago, looking for a phone he could use while he waited for Bo to come home. He repeated over and over how proud he was of his brother, the firefighter.
---
Posted under People by Brian Marston on Mon., Jun 21, 2004 at 12:43 PM